Unisex LED Lighted Beanie Hat, Rechargeable Adjustable Brightness Headlamp Winter LED Hat Light
Accept returns for refunds
🔥 STAY WARM & SAFE - this LED hat is the perfect companion for outdoor adventures. The HEAD LIGHTZ head lamp is a critical tool for emergency situations - stash one in your glove compartment or trunk and never be left in the dark again. Light your path and safely stand out.
🔋 LONG-LASTING RECHARGEABLE BATTERY - features a built-in powerful lithium-ion battery that is 3rd party tested for safety and durability. The LED light easily recharges for up to 8 hours and features 3 brightness settings so you can easily find the right level of light - just tap the button to toggle settings.
🙌 HANDS FREE OPERATION - Great for outdoor activities including runners and joggers, these LED running lights allow you to SEE and BE SEEN day or night wearing this stylish light up beanie headlamp. Use these headlamps for adults and kids - one size fits most ages 8 and up.
🧼 MACHINE WASHABLE - cleverly-designed night cap features a super-bright LED head light that removes easily, allowing the super-soft and durable 100% knit acrylic beanie cap to be easily machine-washed. The high-quality, colorfast material won't fade over time. Enjoy care-free maintenance.
🎁 MAKES A GREAT GIFT - if you're looking for great gifts, these beanie hats are for you. They make cool gifts for men, women, children, mom, dad, aunt, uncle, grandma and grandpa - the perfect novelty gift stocking stuffer for all! Add this night cap to your holiday list as gifts for hikers or gifts for hunters - even makes a cool fishing gadget.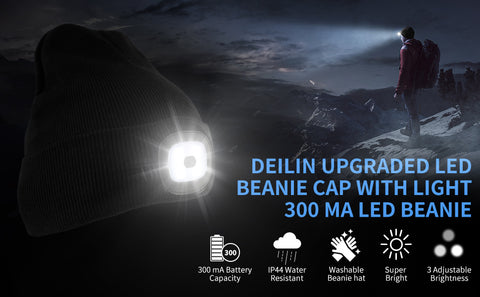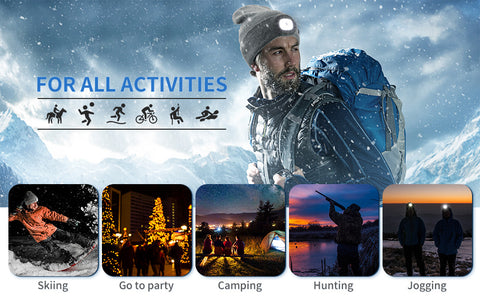 60 day guarantee
If you are not satisfied with your product - we offer a 60 day warranty on all your purchases. Simply send the item back to us for a free full refund or replacement.